Should I have an Emergency ID?
Yes. Carrying emergency information with you will help first responders assist you should you find yourself in a situation where you need emergency care. GO>ID gives you a lightweight easy to attach option for carrying this important information. With GO>ID you do not need to wear any additional bracelets or other devices. Simply attach GO>ID to your watch or your shoe, backpack, zipper pull … really, it can be attached to anything you are already wearing or carrying. Easy to carry and easy for first responders to find.
Who should wear a GO>ID?
Most everyone can benefit from GO>ID and the security of knowing critical information will be with them in case of an emergency. Outdoor enthusiasts, athlete in training, a disoriented adult, disabled or traumatized individuals … even children can benefit from carrying important information.
When should a emergency medical ID be worn?
Really, at all times. Even if you're at home and you find yourself needing emergency care, the first responder may know who you are, but will they may not know your allergies, or what medications you take.  If you're with your best friend do they know your medical history, blood type, mothers phone number?  Quick access to information may be what saves you.
Why buy an emergency ID?
It's the cheapest "insurance" you will buy. For less than $20 you can set your information and forget it. If it's not needed — just like life or health insurance — that's great!
What do I need to make my GO>ID?
In addition to your GO>ID making kit, you'll need a computer, internet access, and a printer (inkjet or laser).
Why are there inkjet and laser labels?
Labels including with GO>ID are made specifically for laser or inkjet printers. They will absorb the two types of ink differently. For best results, use the label that is specific to your style of printer — laser labels will not print permanently to the inkjet printer, and vice versa.
What if my information changes, how can I update my ID?
Use the ID making kit to print another label with your updated information. Then, remove your old label from the ID and replace it with your newly printed information. If you need additional ID making materials you can purchase a separate ID Making Kit.
Where should I place the GO>ID "Protected" sticker?
The sticker that is included with your GO>ID is intended to let people know you have an ID. It is also intended for reflective purposes. Put it on your bicycle, bicycle helmet, wallet, phone, car window, or anything else you use frequently.
Is the GO>ID "Protected" sticker reflective?
Yes. It is reflective to help with making you more visible in darkness or low-light situations.
How does GO>ID attach to my watch?
Hook and loop fasteners with adhesive backing are included with your ID making kit (similar to Velcro®). Attach the hook faster to the metal ID and the loop fastener to your watch back. That's it. Just bring the hook & loop together and your metal ID will be securely held in place.
Is it comfortable to wear the ID on my watch?
Absolutely! GO>ID has been tested with people of all sizes and all ages. GO>ID is so lightweight and comfortable that it is forgotten minutes after putting it on.
I feel discomfort with the ID on my watch, am I doing something wrong?
Testing has shown that in some cases, despite the low profile of GO>ID, the combination of your ID and the hook & loop can make your watch feel tighter, causing discomfort. If that's happening, simply loosen your watch band.
How long will the hook and loop last?
Like any hook & loop, that depends on how often you remove the ID from your watch. The hook & loop included with GO>ID will last for at least 100 pulls. Testing has shown the loop will typically wear out first — which is why two pieces are included in your kit.
I'm worried the ID will come off my watch. What can I do?
You can make the ID permanent to your watch by using a piece of double-sided permanent foam mounting tape found at many retailers. Instead of using the included hook & loop, use a piece of foam mounting tape to permanently attach the ID to the back of your watch.
Should I choose to display the "ID" or the "Star of Life"?
That's a personal choice and sometimes dictated by your personal situation and the information you include on your ID. If you have a life threatening disease you should display the Star Of Life as the traditional medical emergency symbol. If your information is not of that nature, you can display the "ID" side of your GO>ID.
Can I wear GO>ID on Velcro® shoes?
Yes. If you place a safety pin through the holes on the back of the silicon cover you can easily attach GO>ID to the Velcro® on your shoe or boots.
Do you have future ID products in development?
Yes. Check our website from time to time, or sign up to receive product information and updates by email to stay up to date on future products.
I received my GO>ID as a gift, can I exchange it for different size or color?
Yes. Please mail your original, unopened package to us. Include your phone number or email address and we will send you an promo code to use when ordering your replacement GO>ID.
I would like to resell GO>ID, do you have wholesale or volume discounts?
Yes. Please contact us at sales@go-id.org to inquire about volume discounts.
I need a new part for my GO>ID, can I get replacements?
Yes. You can order additional ID Making Kits or Silicon Covers here on our website. If you need assistance, contact customerservice@go-id.org.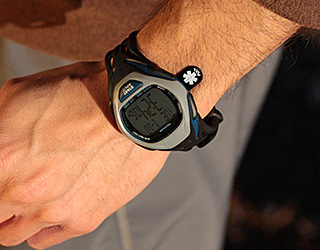 Getting the right size ID
To wear your GO>ID on the back of your watch be sure to choose the best size based on the diameter of your watch. The easiest way to estimate your watch size is with a coin. Place a coin on the back of your watch, making sure the edges of the coin fit entirely within the perimeter of your watch back. A small GO>ID is about the size of a dime, medium the size of a quarter, and large the size of a half dollar. For using GO>ID with its silicon cover on your shoe, zipper pull, cell phone, etc., you can use any size — but you'll have more room for important information with the medium or large.
Small = 16 mm / 0.63 in
Medium = 24.4 mm / 0.96 in
Large = 30.6 mm / 1.21 in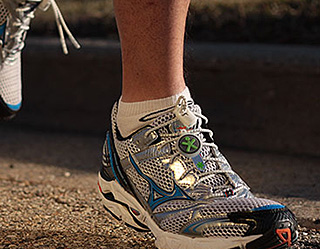 What's In The Kit?
Each GO>ID comes with a metal ID, silicon cover, zipper hook, a "Protected by GO>ID" reflective sticker, and the ID Making Kit with everything you need for making your custom ID labels.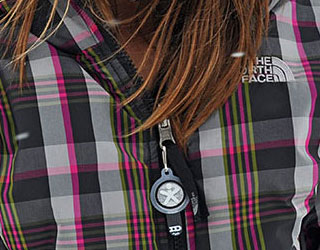 How to use GO>ID
After receiving your GO>ID, click Make My ID to begin creating your custom ID.
Print your custom ID label using the ID Making Kit.
Decide which symbol you will display on your Go>ID's tab — "ID" or the Star of Life.
Attach to your watch or use the silicon cover to attach to your shoe, zipper, or key ring … and GO!