When you're in need, first responders will need all the information they can get. GO>ID is the personal emergency ID which gives essential information to first responders, even if you aren't able. You can easily change your personal information as your situation changes. Just print your personal medical ID label on your own printer and you can … Go>Anywhere!
Alert first responders with two of the most recognized emergency symbols in the world — the star of life or the letters "ID". Each GO>ID comes with both symbols.
GO>ID is the first ID you can easily wear wherever you want: on your watch, on your shoe, on your backpack, your zipper pull, cell phone … anyplace you can imagine.
GO>ID enables you to carry more important information than most other medical IDs — up to 250 characters.
There's no chip or battery so, unlike many devices, it won't lose power or wear out.
The included ID Making Kit makes it easy to print your custom labels and assemble the GO>ID for how you want to use it.
GO>ID is designed to protect your information and allows for anonymity while on the go.   Your personal information stays hidden and discretely out of the way — either under your watch or in the included silicon cover. The unique alert tab lets first providers know you have important information for them.
The ID is lightweight and comes in several colors and materials. The lightest weighs less than a sheet of paper (1oz)!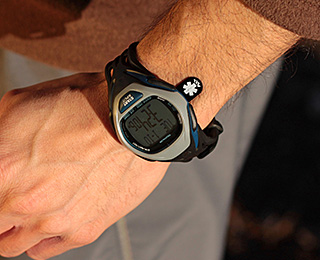 What's In The Kit?
Each GO>ID comes with a metal ID, silicon cover, zipper hook, a "Protected by GO>ID" reflective sticker, and the ID Making Kit with everything you need for making your custom medical ID labels.